Sale!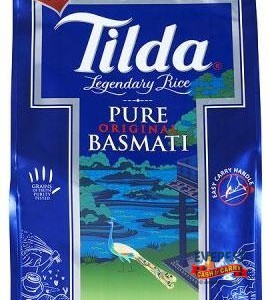 Tilda Rice 10 kg
Sun Kissed Legendary Rice, nothing else
Love at first taste
Grains of truth purity tested
Purity & quality guaranteed
Low to medium GI
Free from gluten and lactose
Free from added colours, preservatives and flavours
Tilda Pure Basmati combines beautifully with ingredients you may never have considered before.
We select this unique, fragrant and delicate Basmati from over 10,000 independent farmers whom we know by name.
Allergy Information
Free From: Gluten, Lactose
Other Information
Additives Other Text: Free from added colours, preservatives and flavours
www.tilda.com